Art in the Library:
2023 Artists Schedule
January & February: Louise Woodard
March & April: Town of DeWitt Recreation Generation
May & June: Lisa Carlyon
July & August: TBD
September & October: Ryan O'Hara
November & December: TBD Information on our shows can be found in our newsletter and on our social media pages. If you are interested in showing your work, contact Fran Swick at fcacace@CLDandJ.org.
About the Wendy Scott Art Gallery
Located in the hallway outside The Vault teen space, the Wendy Scott Art Gallery is dedicated to enriching the experience of our library patrons by providing a space for high-quality art from local working artists in a diverse range of styles, themes, and mediums. The library also offers additional educational opportunities to increase visual literacy and knowledge of art.
Fiddles, 2011 by Libby Hughes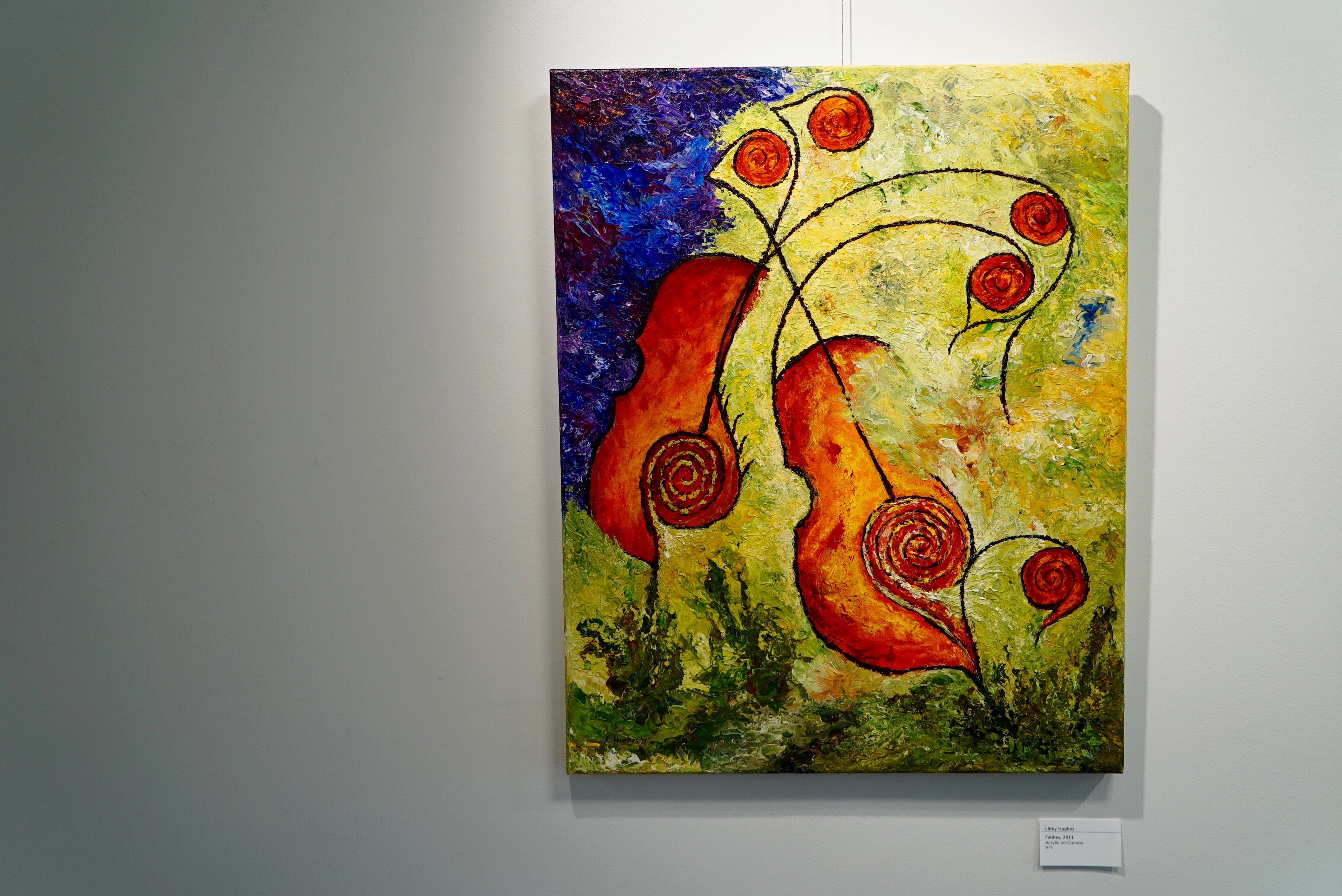 Accessibility Services:
About
The Community Library of DeWitt & Jamesville is committed to providing equal access to all patrons, including those with disabilities, under the Americans with Disabilities Act (ADA). This guide provides an overview of current accessibility services offered by the CLD&J.
Download our Accessibility Services informational sheet. (Click here)
Services & Collections
Captioning for Library Programs
Large Print Collection
Audiobook Collection
Social Stories
The CLD&J has developed a Library Social Story to help prepare children for a visit to our library. A social story is a learning tool that describes social situations through a positive exchange of visual and printed information.​ Our social story was created to promote a positive, safe, and meaningful library visit for all.
Social Story for Ages 3-6 (Click here)
Social Story for Ages 6+ (Click here)

Accessible Features of the Facility
Automatic door opener at entrance
Varied height service desks
Wheelchair accessible
Elevator
Handicapped parking spaces
Convenient outdoor seating leading to library entrance
Available Equipment
Merlin Magnifier (upon request)
NVDA Screen Reader on all public computers
Magnifying Glasses (Available at information desk)
Windows 11 Accessibility Features
Most library computers are equipped with accessibility features including:
- Narrator: a screen reader program and braille support
- Color filters
- High contrast themes
- Magnifier

Outreach Services:
About
The Community Library of DeWitt & Jamesville provides resources and services to individuals, schools, and organizations within our community. Our dedicated staff is interested in providing services to you or your group. Please reach out to our Coordinator for Community Engagement and Outreach, Sara Jo Brandt, sbrandt@CLDandJ.org with any requests or questions.
Book Clubs
The Library provides books for book clubs at the local schools and senior living facilities. These services are coordinated through Sara Jo Brandt: sbrandt@CLDandJ.org.
Local book groups (or clubs) looking for book recommendations or book-related services can contact Brian Abbott for assistance: babbott@CLDandJ.org.
Past Outreach Events Attended by the Library
Syracuse Tech Week : Club Day (Mariott Syracuse Downtown - 2019)
John A. Defrancisco Senior Fair (Fairgrounds - 2018)
CNY Regional Making & Innovation Conference (LeMoyne College - 2018)
AT&T and CNY STEM Hub Camp (LeMoyne College - 2016)
TACNY Maker Hall (Nottingham High School - 2016)

**If your facility or community group is interested in having the Library visit, please contact Sara Jo Brandt at sbrandt@CLDandJ.org.
Activities
Outreach to Senior Living Facilities
The Library conducts regular visits and book clubs at Menorah Park and the Nottingham, two local senior living communities. For more information, contact Sara Jo at sbrandt@CLDandJ.org.
Outreach to Schools and Public Facilities
The Library plans regular visits to local schools in Jamesville & DeWitt, including public and private schools. In the past, outreach initiatives have included programs at Clark Reservation, Jamesville Beach County Park, Jamesville Penitentiary, Ryder Town Park, and the Town of DeWitt's Annual Canal Day.
Living Library:
About
This initiative offers programing and informational guides about the natural environment around the library and our local landscape. The programs range from Astronomy and birdwatching to gardening and nature-related craft prjects.
Policies
The property surrounding the library is private, however we permit patrons to take advantage of the learning opportunies and enrichment that natural spaces can provide. Please follow our Outdoor Space Policy while visiting the Library and taking advantage of our property.
Outdoor Space Use Policy
Programs
Check our Calendar of Events for current program offerings in the Living Library category.
Have a program idea? Reach out at programming@cldandj.org to share.
Additional Information
Solar Panel and Green Roof Informational Flyers
Local Birds Poster: in the Gallery
Local Wildflower Updates: posted on our Facebook page
Local Wildlife Updates : Posted on our Facebook page
Local Plants Featured on the Homepage
| | |
| --- | --- |
| American Hophornbeam | Fringe Orchid |
| Canadian Anemone | Lanceleaf Coreopsis |
| Cattail | Maidenhair Fern |
| Chokeberry | Paper Birch |
| Eastern Cottonwood | Sweetgrass |
| Eastern White Pine | Trillium |